I love being able to come on my platforms and talk about friends endeavors. I've actually gotta start doing it more, I have some incredible people around me doing outstanding things and I'd really like to give them more air time! With that being said, I'm so happy to give you a first look at the Candibox – a Candice & Nanuki chocolate collab thats just launched.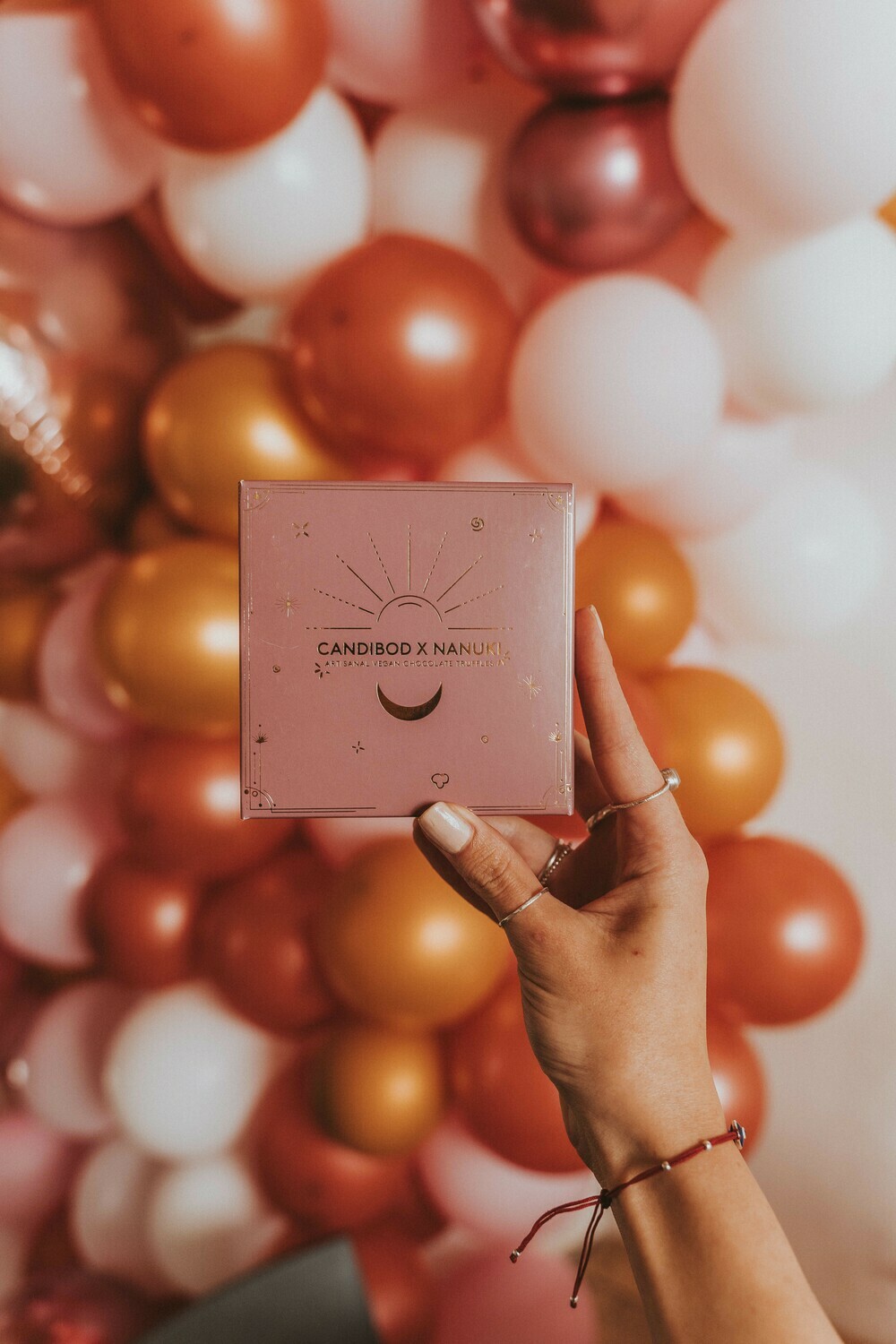 Candice is a qualified PT, Yoga Teacher, Nutritional Advisor and general badass boss babe who runs a holistic food and fitness page on Instagram called 'Candibod', and for years she's developed the most stunning, easy, at home recipes for the snack kings and queens out there with a sweet tooth. Now she's launched a box of the most scrumptious truffles in collaboration with the vegan chocolate truffle connoisseurs Nanuki, the same brand who brought us the 'Boom Bar' and 'Space Rocks', so obviously this was going to be a choccie concoction to die for!
If the packaging and look of these truffles isn't enough to already get you excited, then the flavour combinations sure should. She's got a talent for pulling together the most more-ish taste concoctions and in this box you'll find these chocolate combinations:
Caramel Hibiscus Salt (my fav)
Caramelized White Chocolate
Nibs & Mylk Chocolate (this one has cape blossoms, bougenvilla and naturtium in it!)
These are all equally delishy, but the first one has got to be my favourite based on the fact that the salt cuts through the dark chocolate and balances it oh so beautifully. If you're looking to buy it, it makes a wonderful year-end/Christmas/birthday gift for those chocolate addict friends or family members of yours and hey, why not buy one for yourself too: CLICK HERE TO SHOP
The snack queen didn't stop there though! She's simultaneously launched a 'Bodaffle' at Jessy's Waffles this month which has all the same ingredients and tastes that the box does! There's a touch of salt in the ice cream, which cuts through the decadent dark chocolate so beautifully, and makes for a scrumptious meal!
A final big BEEEG well done to this lady for always delivering quality collabs, and a very happy birthday again – may this next year be the best trip around the sun yet!
Cait x